Qwirkle
Qwirkle was first published in 2006. Since then it has gone on to become MindWareís best selling game of all time Ė selling more than 2 million copies around the world, as well as winning numerous awards.
Qwirkle consists of 108 beautiful chunky wooden tiles. Players use the tiles to make lines that are either all one color or all one shape. There canít be duplicate tiles in a line. When you finish a line of six tiles, itís called a Qwirkle and you score bonus points. Itís simple enough for 6 year olds to play, and strategic enough for adults to enjoy. One of the best things we hear about Qwirkle is that families enjoy playing it together.
In April 2007, Qwirkle won a Mensa Select Award. Later that year, Qwirkle received a Parents' Choice Gold Award. In June 2011, Qwirkle received the prestigious Spiel des Jahres Award, or German Game of the Year. In December 2013, Qwirkle was featured on TableTop. And in January 2014, a Qwirkle App was released for IOS devices.
Listed below are links to additional awards, reviews, and comments about the game.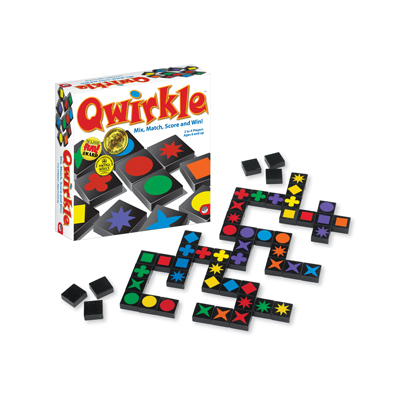 Image © MindWare

Awards
Qwirkle has received awards and accolades from Mensa Select and Parents' Choice and Major Fun.
Games Magazine named it the 2008 Best Family Game Runner Up and in 2007 Creative Child Magazine called it a Preferred Choice.
Qwirkle has also been declared the top game of 2007 on Board Game News by its editor W. Eric Martin.
Reviews
Qwirkle has been reviewed on Board Game Geek, by Board Game News, on Gamers Alliance, on Callapidder Days, on Wei-Hwa's Mensa Mind Games, on Play This Thing and by customers on MindWare, Funagain Games, Fat Brain Toys and Amazon.
Qwirkle has also been reviewed in the July 2007 issue of Games Magazine as well as the July 2007 issue of Knucklebones.
Around the World
Qwirkle is a world traveler and for sale in 34 different countries: Australia, Austria, Barbados, Belgium, Bermuda, Canada, China, Costa Rica, Czech Republic, Denmark, Finland, France, Germany, Ireland, Italy, Hungary, Hong Kong, Luxembourg, Malaysia, Mexico, the Netherlands, New Zealand, Norway, Panama, Poland, Saudi Arabia, Singapore, South Korea, Sweden, Switzerland, Taiwan, the United Kingdom, the United States and Venezuela.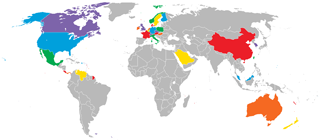 Newspapers
Qwirkle was mentioned as one of the cool new toys at Toy Fair 2007 by the Washington Post.
It has also been mentioned in articles in the Columbus Dispatch, Helena Independent Record and Deseret Morning News.
A nice article about Qwirkle and Idea Duck can also be found in The Press Democrat.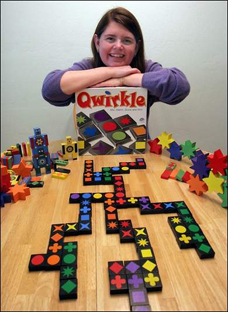 Image © Jeff Kan Lee / Press Democrat

Books

An essay by designer Stephen Glenn about Qwirkle can be found in the book Family Games: The 100 Best.

Board Game Geek

If you are a fan of board games you should definitely check out Board Game Geek. It's a huge board game database and user community. There you can find a page for Qwirkle with ratings and comments and session reports as well as images and other information.

A similar site focused on kids is Kid Game Ratings and it also has a page for Qwirkle.

Podcasts

Qwirkle and Idea Duck were the subject of episode 60 of Garrett's Games & Geekiness.

Qwirkle has also been mentioned and talked about in many other podcasts such as episode 66 of Boardgames To Go (at 11 minutes), episode 6 of the Board Game Roundtable (at 41 minutes), episode 95 of the Dice Tower (at 45 minutes), episode 25 of 2d6 Feet in a Random Direction (at 52 minutes), episode 43 of The Spiel as part of their 2007 Holiday Gift Guide (at 76 minutes), volume 46 of Boardgame Babylon (at 29 minutes) and episode 95 of Garrett's Games & Geekiness (at 31 minutes).

Blogs & Other Websites

Qwirkle has appeared on various sites such as Game Ranch, Tiny E Ranch, Giantmonster TV, East Tennessee Gamers, Playing With Myself, Central Texas Boardgames Group, Gamer Chris, Luis' Illustrated Blog and in an interview with game designer and poet Dave Grossman on Gamasutra.

Parties

And be sure to look at Qwirkle Party for pictures from the Qwirkle release party.

© 2002-2017 Idea Duck, LLC